Interested in visiting Ilha Grande? Check out our trip list!
Ilha Grande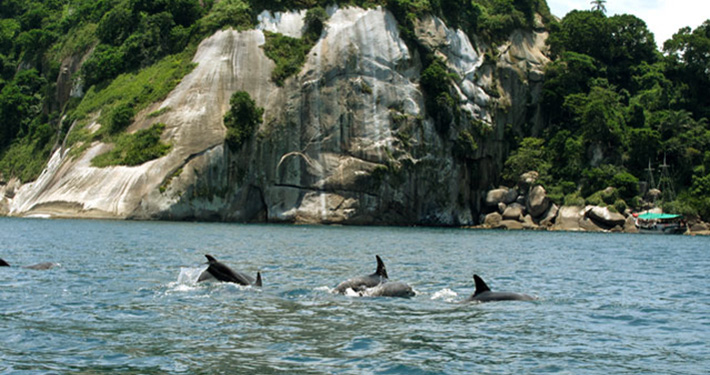 In a coastal area that is known for its tropical beauty, Ilha Grande stands out from the pack. Carefully controlled development and denial of access to vehicles has allowed the island to retain a significant amount of its natural beauty. Ilha Grande is host to 100's of isolated beaches, coral reefs, hiking trails, as well as the intermingling of various species such as rare birds, whales, penguins, monkeys, and other fauna!
Sights we recommend
Aventureiro Beach (a gorgeous beach located on the rear part of the island. Well isolated from many of the more popular beaches and hiking trails. With few services and restaurants, this idyllic beach with its picturesque surroundings and tropical white sand is the perfect location to lay down and realize the concept of paradise on earth)
Dois Rios (A small village which houses one of Brazil's most infamous former prisons, this charming day trip (the village is closed to visitors at nightfall) is avoided by tourist boats and requires a hefty hike! Enjoy the serenity of a village located between two rivers that flow around a tropical haven!)
Feiticeira e Iguacu Beach (if you are willing to take the hike up a small mountain, this beautifully tucked away waterfall is a nice private getaway to splash around and reward the climb preceding it!)
Dining
Dom Mario (Considered one of the best dining options on Ilha Grande, come for the ambience and variety, stay for the fusion of French/Brazilian)
Rua da Praia, 781 Vila do Abraao, Ilha Grande, RJ
Lua e Mar (Fantastic and incredibly fresh seafood! A great example of Ilha Grande's wealth of fresh fish and beach seating) Beach front near Rua da Fabrica, Vila do Abraao, Ilha Grande, RJ
Marbella (Well-regarded pizzeria known for quality service, ingredients, and prices)Rua Da Praia de frente para o mar, Ilha Grande, RJ
Transportation
We recommend guests take a bus to Angra dos Reis, and then cross to the island by ferry, as there are no roads or connections from the mainland to Ilha Grande.
Cost: R$ 40-50 for bus from Rio de Janeiro to Angra dos Reis, R$ 14 for ferry from Angra dos Reis to Ilha Grande (BUT some accommodations like Vila Pedra Mar ARE NOT in Vila do Abraão, where the ferry service arrives in Ilha Grande from Angra; thus they will need to arrange transportation)
Time: Approx. 5-7 hours
Accommodations
Vila Pedra Mar
Winners of the Travelers Choice 2014 for Ilha Grande, Vila Pedra Mar is a delightful BnB run by a family just 5 minutes from one of the island's more secluded beaches. Featuring luxury suites, gourmet meals served for breakfast, lunch, and dinner, snorkeling equipment, canoe and free boat tour!
Cost (Daily): R$700-900
_________________________________________________________________________________________________
Aratinga Inn
5 star BnB that offers excellent personal service. Rennie is known for her personal attention, as well as their offered bungalows with hammocks amidst the lush Atlantic Rainforest.
Cost (Daily): R$ 350-400
http://aratingailhagrande.com.br/
Lonier Ilha Inn Flats
A well priced accommodation on Rua Santana, Lonier Ilha provides two buildings in their complex. One is styled as a hotel, and the other features flats with kitchenettes, with the first facing out over the sea! Features a restaurant next door
Cost (Daily): R$ 200-250
http://www.ilhainn.com.br/