Santa Teresa Pousadas with Character
October 4, 2011 | Filed under
Travel
| Posted By Alison McGowan, Contributing Reporter
RIO DE JANEIRO, BRAZIL – The Santa Teresa neighborhood of Rio de Janeiro is perhaps one of the most popular locations for pousadas – a small bed & breakfast guesthouse or inn – due to both the number of large mansions suitable for refurbishment and the bohemian feel of the place. It is an area which is increasingly sought out by travelers who want to avoid mass tourism and feel part of the "real" Brazil.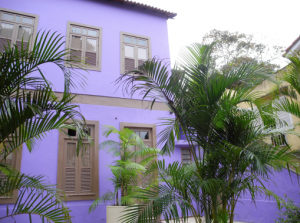 Casa Cool Beans in Santa Teresa, photo by Hidden Pousadas Brazil.
Perched high on a hill with panoramic views of the city on one side and Sugar Loaf and Guanabara Bay on the other, Santa Teresa is an ideal inner-city hideaway, full of historical character, bars, restaurants and an eclectic music and arts scene.
Santa Teresa boasts many pousadas varying in size and price. However, there are always a select few that manage to stand out from the crowd and offer just that little bit extra in style and hospitality.
Casa Cool Beans is one of them, and not least for its eccentric bright purple exterior. This newly refurbished mansion-pousada was opened in December 2010 by Americans Lance and David and is already a firm favorite for striking just the right balance between a peaceful, intimate and friendly atmosphere while still being right in the heart the action.
Seven beautifully designed suites decorated with local arts and crafts, a communal breakfast on the terrace, and a plunge pool are just some of the special touches that allow visitors to relax and unwind.
For the balance of the article please see link to article here: http://riotimesonline.com/brazil-news/rio-travel/santa-teresa-pousadas-with-character/